Testimonials
---
When racing legend, Bill Elliott, drops by The Outdoor Lights for a visit, owner, Chris Wakefield, challenges him to a race of sorts and gets more than he bargained for.
Bill Elliott
Nascar Legend


---
Backstreet Boys' Brian Littrell and The Outdoor Lights' Chris Wakefield produced an entertaining promo video! This you've got to watch! Click below to view or visit our YouTube Channel.
Brian Littrell (Backstreet Boy)


---
New lights are awesome, ya'll do great work! Thanks
J Van Epps


---
Chris,
I could not let the day end without writing and thanking you for the additional lights The Outdoor Lights so graciously added, at your expense, to the St. Luke facade lighting project. Ironically, I was pulling in the church parking lot just as Enrique and the big truck arrived. Quite frankly, I was surprised to see him. He told me you wanted to add two more fixtures to properly light the Bell Tower. Also, today the Bray Electric Company installed a new astrological time clock controlling the lanterns on either side of the front doors and the Bell Tower Doors. As you recall, these lanterns could not be controlled by the photo cells used for the facade lighting.
Tonight, after dark, I drove downtown to make sure the lanterns were burning and see the lighting added to the Bell Tower. When I pulled in the parking lot across Peachtree Street I was stunned by the difference. The detailing revealed of the upper architectural castings is amazing. Even in daylight I had not paid that much attention to the details; however, the additional lights make these architectural castings come to life. I next circled the block to the Downtown Connector. After passing under the West Peachtree Bridge, I looked up and St. Luke's, especially the Bell Tower, literally glowed. In the years to come, countless people will be inspired by your work.
Fluffy McDuffie and Marc Mosley both assured me you were the best in the outdoor lighting business, and I certainly agree. Currently, Trinity Church, Wall Street is designing a new facade lighting project. I feel confident even with the tremendous resources of Trinity Church their end result will not be any more stunning.
Again, my most sincere appreciation to you and your fantastic crew.
God's blessings.
Bobby Mays
St. Luke's Episcopal Church


---
Just wanted to send you a note from Tom and myself about your company. We are very impressed with you and everyone that works with your company!! Very professional. They take a lot of pride in their work.
Carol Perry


---
The service was, as always, performed just as planned. The guys that come from The Outdoir Lights are always courteous, professional and perform the work just as planned. They are the best!
Thank you!
Jeanie Sims


---
Thanks to former UGA football coach, Vince Dooley, for providing a video testimonial for The Outdoor Lights.
* Video produced by Bill Rich.
---
What services did we recently perform for you? Lighting Install & Design Service
We worked with Stephen Edwards during the latter stages of construction for our new house. Stephen walked the property and designed the outdoor lighting system. After it was installed, we thought he nailed it. We made only one small request to add one light. The additional light was added the next day. Great people to work with.
Very professional and experienced. The installers were very careful around the newly planted landscaping. I would use The Outdoor Lights Inc. for my next installation without hesitation!
Russ W.


---
I just saw you guys finished the lights yesterday and heard glowing reports from the residents last night. Thanks again for a top notch job! We will do a better job of using you guys to maintain going forward.
Scott R.


---
You all are the best! Professional. Competent, Thorough. Helpful. Punctual. We have had A LOT of services at our house over the past two years and you and only 2 others of the MANY, are worth recommending to others and are a true pleasure with whom to work. Thanks so much.
Cindy C.


---
I just wanted to tell you that you might be the best contractor I ever worked with. I would have never noticed that my electricians did not paint the bottom portion of the conduit where the light hangs. Then you pointed it out to me and when I drove by, you had already painted it! It looks great and I appreciate it. I love the lights; it's the little things that make the difference. Thanks a lot!
Brad Hodge Builders


---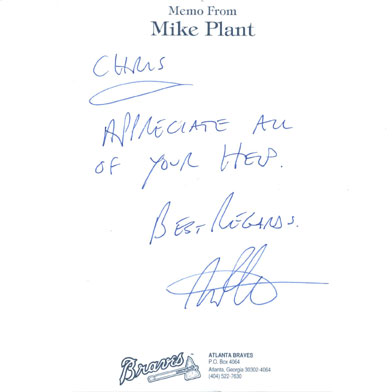 Mike Plant
General Manager
Atlanta Braves


---
Thank you for sending your crew over today. They reset my lights and were very professional and diligent. Thank you for being such an awesome company!
Valerie J.


---
Thank you and Merry Christmas! My lights are in perfect working order and are admired by my neighbors.
Joe B.


---
Thank you, Elizabeth. The lighting is excellent now. I appreciate your assistance and am so glad I chose The Outdoor Lights team.
Joe B.


---
Dear Chris,
I want to thank you for taking your time and resources to keep the Girl Scout mansion a safe place for girls in our community to go and meet. The Girl Scout driveway and yard was very dark and it being on a busy road, always concened me that parents had to struggle at night to find the entrance to the mansion. You were so kind to call and ask me if you could supply the lights and labor as a gift. When we first rebuilt the Girl Scout mansion, we had several generous people like yourself offer to give back and it is always appreciated by Tommy and myself as well as the Girl Scout leaders of our community.
Chantal Bagwell


---
Ricky,
I just wanted to thank you for a wonderful job! We love the lights!!! Our daughter's engagement party was a huge success. I will recommend your company to all my friends.
Kim K.


---
Thank you so much for your generous contribution of lights for our Outdoor Shrine of the Blessed Virgin Mary. I apologize for the lateness of this acknowledgement, but please be assured that your work, generosity and commitment did not go unnoticed.
Your generous gift not only benefits the parish as a whole, but is a wonderful testimony to the commitment you have to Our Lord, His people and His works.
Father Frank Richardson
Church of the Good Shepherd
Cumming, GA


---
Thank you for your rapid turnaround, Ricky!
Lou P.


---
Chris, just a short note to let you know how pleased I am with Outdoor Lights. Your crew came this morning and did a very professional and caring job. They are to be commended. I am sorry that I do not know their names but they were wonderful and you should be proud of them. They were courteous and went out of their way to do an exceptional job.
Karen K.
Cumming, GA


---
Just wanted to drop you a quick note saying how friendly, personable, helpful and informative your guys have been. They are here replacing lights and checking them to make sure they are all in working condition and I was really impressed by their professionalism. It is hard to find quality employees who represent your company in such a way you can be proud of. I wanted to take a moment to let you know I appreciate good service!
Thank you!
Kim L.
Kenesaw, GA


---
Ricky-New lights are great! Thank you!
Todd T.


---
We absolutely love all the outdoor lighting your company installed. The house really looks beautiful at night! We can't thank you enough.
Freddy G.
Atlanta, GA


---
The Outdoor Lights was recommended to us by our landscape design firm, which recently transformed the outside of our modest house, and motivated us to install outdoor lighting to wash the terrace with overhead lights, highlight the front of the house, and provide security and safety. Ricky Prewitt designed a beautiful 'less is more' lighting plan, and his professional crew installed the lights, wiring, and timers so that everything is practically unnoticable. They'll even come out annually and change the bulbs. I highly recommend The Outdoor Lights company.
Rick D.
Atlanta, GA


---
Jo and I would like to express our appreciation for the wonderful lighting design and installation work done by you and your company on March 15, 2007, at our home in Roswell, GA.
Your work arrived at the scheduled time and date and the crew were very, very hard workers who worked the entire time they were here. I was very impressed at how they went about their work with very little supervision and in concert with each other, as an outstanding team should. When they finished the job they took great care in storing their tools back in the truck and cleaning up what little mess they might have caused.
On Friday evening we entertained my grandson and his family and I showed them the lighting and explained that your company just completed the lighting job the day before. They could not believe it was just done, and they were impressed at the absence of any tell-tale work damage and the quality of the fixtures.
Overall, my wife and I would rate the entire job as "Excellent and Superb".
Thank you for your strong desire to please us and the excellent job done!
We are VERY pleased.
Jo and Paul H.
Roswell, GA


---
The Outdoor Lights company was able to transform my beautiful pool area and property into something more....an escape from every day into a vacation paradise at the push of a button.
They were and are very responsive with all my lighting needs.
M Nash
Atlanta, GA


---
Our relationship with the Outdoor Light Company began back in 1995 and continues to this day. Over the years we have tweaked as needed by adding more lighting at strategic areas, and Chris has always showed up as promised with a dependable crew that got the work to be done quickly and in my recollection has never had to return to correct and or readjust for something that was forgotten.
Jan L.
Alpharetta, Ga.


---
You guys were absolutely the best subcontractor on our project. Everything works great and we have no issues whatsoever. I only wish I had another tree at the entrance to the driveway for one more moonlight, but there is nothing there to hang it from.
Lights are fantastic and our guests are always blown away. We'll call you anytime we need service and we always recommend your company to our clients and friends.
Thanks again!
Gary R.
Douglasville, GA


---
I was amazed at how quick Outdoor Lights helped us with the lights!!! Good Grief you are good!! Thanks so much for your help on this. I asked to pay but he said you'd bill me.
Thanks again.
Patty W.
Roswell, GA


---
Your crew arrived at the scheduled time (9:30am) - replaced three bulbs in ground lights and one in the South oak tree. All in 30 minutes. They were courteous and quite efficient.
Thanks.
Jarrett D.
Atlanta, GA


---
I was so impressed by how quickly you took care of our broken light last Thursday. It makes working with you such a pleasure. Thank you so much for your quick response. Everything looks great.
Mona S.
Buford, GA


---
Thank you for installing the moonlights. They work great. Your crew was very professional and did a very good job.
Jay N.
Greenwood, SC


---
I really appreciate the great serv ice and the beautiful lighting! Thank you again!
Mary Palmer D.
Cashiers, NC


---
Please convey our heartfelt thanks to Chris for all that he does for the Bascom. We are truly blessed to have such good friends.
Willis W.
Highlands, NC


---
Yes, we were early in Chris's start-up. Probably 1997-98. And really never have had any problems with our moonlights,etc. I do continue to recommend The Outdoor Lights Company anytime I can. Please say hello to Chris for me.
Stan A.
Gainesville, GA


---
We are very happy with the work.
Jody A.
Roswell, GA


---
Looks fantastic. Please use us as a reference if you have others in the area.
Tom A.
Greensboro, GA


---
Thank you Daphne! We LOVE the lights!!
Kevin H.
Cumming, GA


---
Tell your techs that they did an excellent job! I will get your check to you this week.
Bill R.
Gainesville, GA & Bonita Springs, FL


---
They did a very nice job and it was great to get the lights positioned correctly on the driveway.
Susan L.
Dunwoody, GA