Maintenance & Service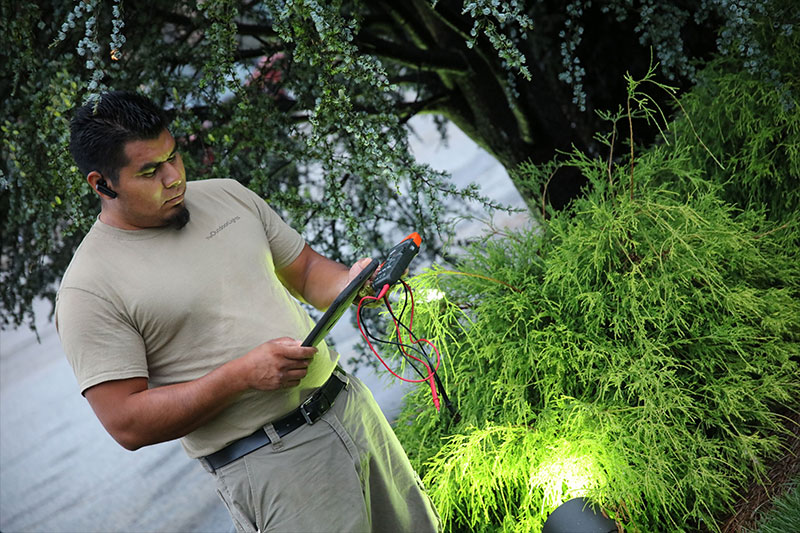 In addition to The Outdoor Lights' extensive design and build services, we offer maintenance programs to optimize your investment. As the seasons come and go, Mother Nature assures constant change to your property. Let us monitor and manage your lighting system with proper maintenance to ensure the affects of the original design is sustained year after year.
Our Premium Service is recommended annually. We can also work with you to customize an agreement based on your specific needs, for example quarterly or semi-annually service if you prefer. At The Outdoor Lights, our team takes pride in providing superior workmanship. Our service technicians are fully insured and offer a safe and reliable service for your lighting system.
---
Premium Annual Service Agreement (PAS) includes the following:
We replace every Low Voltage lamp (bulb) and guarantee them for 1 year from date of replacement as long as they are not operated for more than 6 hours per night.
We test and reset your timer to your specifications and change battery if applicable.
We clean the glass and adjust the angle on all fixtures.
We trim any shrub growth from around all your fixtures, to allow proper illumination spread.
Check the electrical load of each lighting wire run, to insure proper distribution of power from the transformer.
There is a 1 hour minimum charge for labor.
Additional charges on (PAS) Service Agreement may apply for the following:
Cost of all Low voltage lamps (bulbs) replaced.
Cost of all materials used for repair or alterations to your lighting system.
Travel Charge may apply beyond 30 mile radius of our Headquarters in Cumming, GA.
---
High Voltage Lighting: We service high voltage systems, including Moon Lights.
Replace high voltage lamps. We recommended to replace burned out high voltage lamps (bulbs).
Repair Moon Lights
Replace Flood and Security Lights
Tree Climbing Service
---
If your system was not installed by The Outdoor Lights:
Lighting Systems Installed by other:
If your system was not installed by The Outdoor Lights, we will have to assess it before we can provide any service. We critically evaluate the transformer, the types of fixtures, the kind of wire used, and the type of connections used to determine if they are safe and reliable. We will give you an honest and straight forward opinion of your system, backed up by reasonable explanations if we believe your system poses any problems. If we believe any part of your system has an issue, we will give you our recommendations to upgrade your system. If you don't follow our recommendations, we will repair your system, but we cannot guarantee any of our repair work when the quality of equipment or workmanship is not maintained to our safety standards. There are some systems that we will not work on due to safety and insurance reasons. An evaluation fee of $75 to $160 will be charged depending on your location. If located outside the Atlanta area, a travel fee may also be applied. Click the service request link below to schedule an evaluation.